Beautiful Sri Lanka is rich in history, culture, and natural beauty. Sri Lanka has more than 2500 years of recorded history. During the colonial period Sri Lanka was known as Ceylon. Sri Lanka has a beachmore than 1600 km long with golden pebbles around the island. Sea water temperature is 26 degrees which is ideal for swimming. Sri Lanka is a country with sunshine through out the year. Sri Lanka is a multi national and a multi cultural country. Majority of Sri Lankans practice Buddhism. As a percentage it is 74%. Land area of Sri Lanka is 65610 Sq Km. Sri Lanka is a green country with a forest cover of 23% and high biodiversity. Sri Lanka is very famous for its Ceylon tea, high quality spices, natural gems and Ayurvedic and indigenous medicines. Sri Lankan people are smiling people.
.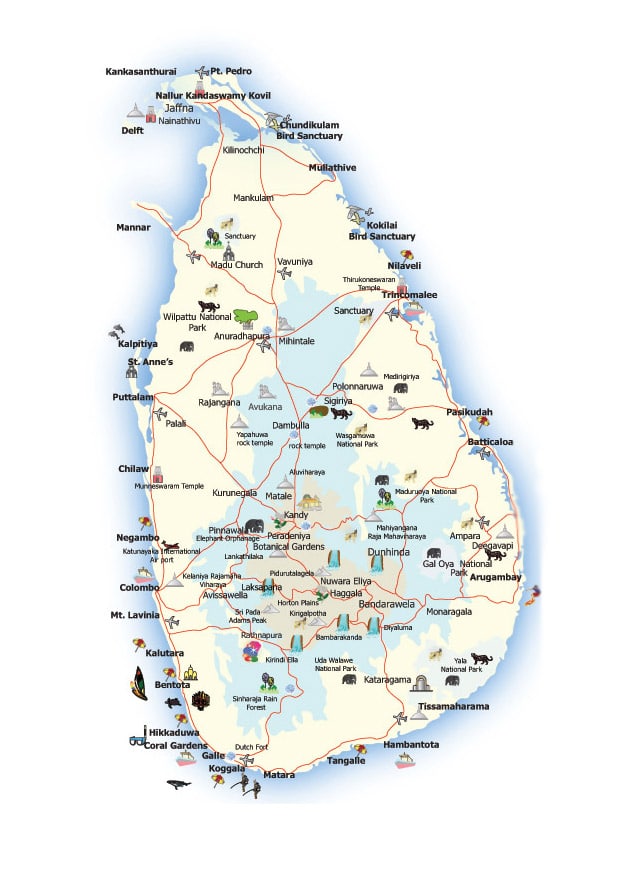 Best time to visit Sri Lanka
The dry periods in Sri Lanka are split by area with December to March being the best period for the west and south coast and from April to September for the heart of Sri Lanka and the East Coast.
The southwest monsoon affects the south and west coasts as well as the hill country between April and September.
The northeast monsoon takes place between November and March and affects the East Coast.
Temperatures are relatively consistent year round (26-32°C) all around the island, especially around the coast and the Cultural Triangle. The hill country is one of the coolest spots in Sri Lanka with temperatures ranging from 18 to 24 degrees Celsius.
Sri Lanka is busiest from December to March, however travelling during the low and shoulder seasons can be great as prices are lower and the are fewer people.
.
Sri Lanka Holiday Highlights
Sri Lanka is a dream destination, a combination of so many spectacular aspects that people visit time and time again. It has everything from vast stretches of coastline to rolling tea plantations and dense rainforest to antique relics. To experience Sri Lanka is to experience life, to undertake a journey guided by its people who will open your eyes to their culture and share with you their heritage.
.
Sri Lanka At a Glance
Commercial Capital: Colombo
Administrative Capital: Sri Jayawardanapura Kotte
Currency : LKR
International Dialing: +94
Time Zone : GMT +5.30 hours
Area (km2): 65,610 km²
.